What a week! Some weeks are diamonds and this week everything I made turned out really well and there was not much to choose between them. So I thought I would talk to you about them all.
First up there was a mash up of this recipe from Donna at A Cookbook Collection which is a super blog that I read all the time:
https://acookbookcollection.wordpress.com/2015/10/21/roasted-grapes-with-feta-and-walnuts/
And Niki Sengit's entry for Goat Cheese and Walnut from The Flavour Thesaurus where she says:
"Paneer is a white tablet of feta as smooth as a bar of Ivory Soap and usually scattered with crisp walnuts. It's generally accompanied by sabzi, a thicket of fresh herbs, to offset it's richness. There will be plenty of mint, plus tarragon and dill, bulbous scallions and, nestled somewhere in among the sprigs and leaves, little radishes like baby robins in their next"
This OMG, I want to eat it right NOW delight is on the menu at a restaurant called Patogh on the Edgeware Road in London. And next time I'm there? I'm there!
Not being there, I made my own and I threw in a heap of roasted grapes à la Donna too! And it was so good! I love being able to nibble food from a platter and this recipe will feature on my Friday night grazing platter all grape season!
For a delicious main meal I made some Crab and Corn Fritters from this recipe from Australian Gourmet Traveller.
For a sweet treat I made a toasted marshmallow pavlova which was A-MAZING – even if I do say so myself. I am working on this for a future post. In case that one turns to crap, here is the prototype which I am very happy with.
Also in the sweet realm but at the opposite end of the spectrum was a fruit and nut gingerbread loaf with lemon icing. The pavlova was light as air and so pretty. The gingerbread loaf was not nearly so pretty but wow! It was kind of like a line backer against the pavlova's ballerina, in the best possible way. So full of flavour. And quite right for the time of year! Also, like a good wine, this baby just gets better with age. And it lasts. It kept for about a week in the fridge. It probably would have kept for longer, we just ate it all.
This week, I am looking forward to cooking
Light, Lunch, Starter or Salad: Italian Stuffed Deli Loaf
The Main Event: Chicken, Mushroom and Walnut Cannelloni from Katie Quinn Davies for the Cookbook Guru
Sweet Dreams: Honey Pots
In Other News I Have Been
Shopping
Another bit of a cookbook binge – I bought the next two Tasty Reads book club books. And as my Christmas present to myself, the new Nigella:
Reading
I gave up on The Reckoning. Life's too short for a book you don't enjoy. I have started the December t book club selection, The Secret Chord by Geraldine Brooks. Personally, I would not have chosen to read this in a billion years – the fictional lives of Biblical characters not being high on my list of interests but I am finding myself increasingly drawn into this story. Which is exactly why I joined the book club – to widen my reading horizons.
I also gave up on The Last Werewolf. I am now listening to Time and Time Again by Ben Elton on audio which so far (1 disc in) has been great. And I do love a bit o' time travelling! Only problem with this is that I keep thinking it is called Time After Time and I have had that Cyndi Lauper song in my head for DAYS!!!!
I have also joined two Good Reads challenges in an attempt to reduce my huge pile of books to be read shelves. I am not going to tell you how many books are on these shelves because I don't want any one judging my book hoarding tendencies. Just think of a number. And double it. And my TBR is still probably bigger. Hmm….maybe I should give a prize to anyone who guesses the number. Anyone want a copy of The Reckoning?
Anyhoo, I am doing the Seasonal Reading Challenge and The Mount so if anyone wants to join in, please say hello to me over there!
Watching
Along with time travelling I am also very fond of a conspiracy theory and I happened to catch the last half of Room 237 on the telly the other night. It blew my mind! How I have missed this up to now I do not know A film about all the hidden meanings in a film I love? This is so in my wheelhouse. I loved it!!! I'm watching it again this weekend. From the start. Possibly several times.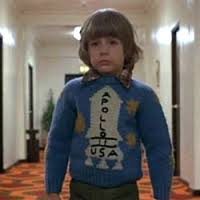 Danny's jumper is one of the many clues hidden in The Shining that point to Stanley Kubrick having staged the moon landings. For the rest and many more theories about the movie, watch Room 237. It's awesome!
For something else that is nutty in all the right ways, try this Fruit and Nut Gingerbread Loaf
Fruit and Nut Gingerbread Loaf
This recipe was adapted from this recipe: http://www.deliciousmagazine.co.uk/recipes/sticky-apple-and-gingerbread-pecan-loaf-cake/
Ingredients
150g salted butter plus extra to grease
150g brown sugar
150g golden syrup
200ml milk
250g plain flour
1 tsp ground cinnamon
1 tsp ground ginger
1 1/2 tsp baking powder
2 eggs, beaten
75g pecans roughly chopped (plus more whole to garnish)
50g crystalised ginger, roughly chopped (plus more to garnish)
2 green apples, peeled, cored, cut into a 1 cm dice
50g sultanas
50g dried apricots, chopped
1 tbsp lemon juice
250g icing sugar
Instructions
Preheat your oven to 180C. Grease and line a 1.5L loaf pan with baking paper.
Place the butter, golden syrup and brown sugar into a small saucepan and stir until the sugar has melted and the mixture is smooth and has thickened slightly.
Stir in the milk.
Set aside to cool.
Sift the flour, cinnamon, ground ginger and baking powder into a bowl.
Make a well into the centre and pour in the cooled milk mixture.
Stir with a wooden spoon until well combined, then fold in the apples, ginger, pecans, sultanas and apricots.
Pour the mixture into the prepared pan and bake for 50 minutes or until a skewer inserted into the middle of the cake comes out clean.
Cool for 5 minutes in the pan then turn out onto a wire rack.
Mix the lemon juice and icing sugar. The mixture should be a thick liquid.
Once the cake is completely cooled, pour the lemon icing over the top.
Top with reserved pecans and ginger.
Enjoy!
http://www.retrofoodformoderntimes.com/2015/12/09/dishiest-dish-fruit-nut-gingerbread-loaf/
retrofoodformoderntime.com
Normally, right about here, I ask you to share what you have been cooking. This week, I want to know your answers to the questions posed on the front of Time After Time Time and Time Again:
"If you had one chance to change history

Where would you go?

What would you do?

Who would you kill?
I can't wait to hear what you come back with!
Have a great week!
Related articles