Remember…hmm about a year ago when I bought the re-issue of the classic Women's Weekly Children's Birthday Cake Book? And I swore black, blind and blue that this year for my birthday I would make the classic swimming pool cake? Well that didn't happen. Because I made something better! I made a Swan Lake Cake!
Ok, technically a pink flamingo cake but in my mind a Swan Lake cake because….I'm going to the ballet! For my birthday the Fussiest Eater in the World bought me…us…tickets to Swan Lake! It's being performed by the Russian National Theatre Ballet and I can't wait. Mind you, I have to because it's not until November. Meantime, I guess I can eat cake!
Ok. so, let's get down to it. This should have looked like this:
Not to diss the AWW but I like my version better. It's brighter, less busy, a little more uncluttered. And it's pink flamingo's on a lake of bright blue jelly (jello for my American friends)!!! When there are so many artificial colours in the one place, you need to keep it pretty simple!
So, now to the assembly. I used a box butter cake mix. You could buy a ready-made cake. It's going to have a big hole cut in the middle of it so no need to be too precious here.
The next step is to ice the cake inside and out. Icing on the inside will prevent the cake from going soggy once you add the jelly /jello. Here I am about half way through that process. I used the icing that came with the cake mix and it was just enough although I had to spread it pretty thin in some places.
I used Blue Heaven flavoured jelly. Which as anyone outside of Australia will know is a totally made up nonsense flavour. And anyone in Australia will be hard pressed to tell you what Blue Heaven actually tastes like. EXTENSIVE research on my behalf (ie a google search) would have me tell you that Blue Heaven is a combination of raspberry and vanilla. Which does sound quite heavenly. I have no idea why it's blue.
It does make a pretty lake though!
I really wanted to keep the jelly whole so I would have a lovely smooth surface on my lake. Impossible! Anyway, I went down to our local lake today and it was neither flat (nor quiet). I had never really noticed how LOUD the lake is on a windy day! And not just because Oscar goes crazy when he sees his version of Swan Lake!
Once your jelly sets, rake thought it with a fork and then move it into your cake lake.
Decorate as you will – a Swan Lake Cake, a swimming pool cake, a sea monster cake! Whatever floats your boat….you could even float your boat on the lake! I bought my flamingo candles at a gift shop but you could use toys or sweets. The only limit here is your imagination.
Oh and a little tip for eating. Jelly and cake is great! Jelly and cake and a little dollop of whipped cream?
Trifle-icious!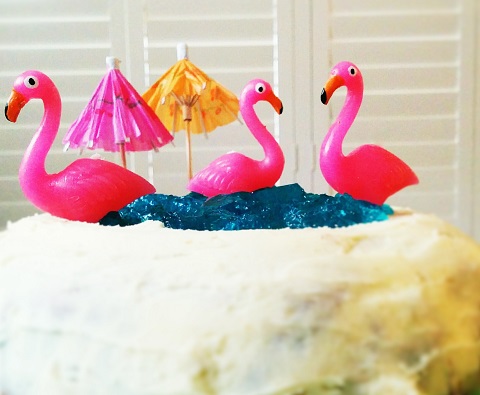 Here's the original recipe from the AWW:
Here's a little bit of what I'll be seeing come November.
Have a fabulous week!
Related articles