If we are at home on a Friday, we don't usually eat a big meal, just usually have a couple of snacky things here and there.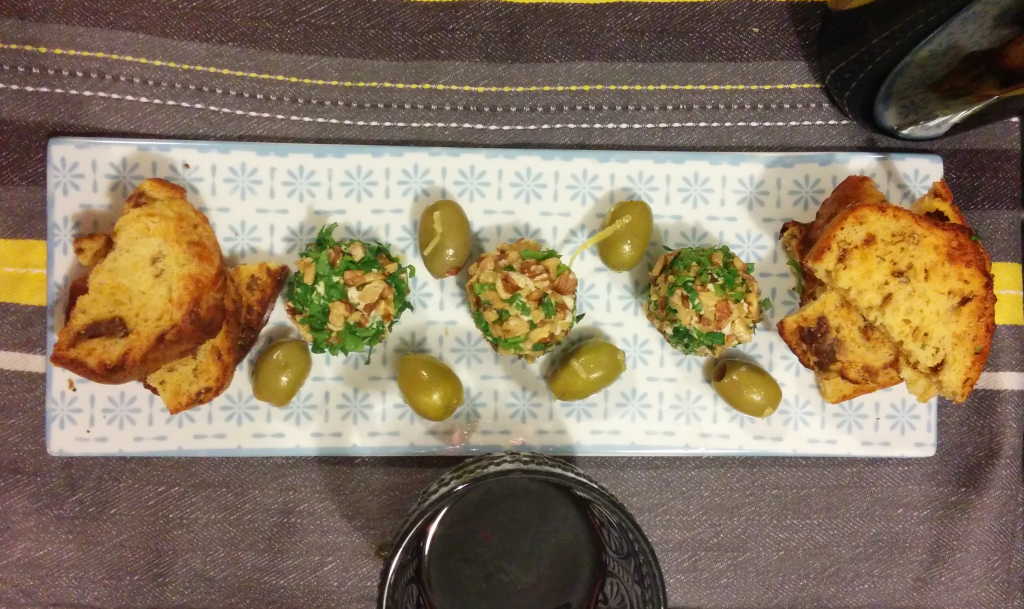 Tonight's snack plate had a distinctly retro feel so I thought I would share it with you!
Cheese and Date Bread
First up, we have some Cheese and Date Bread, courtesy of The A-Z of Cooking. We have jumped somewhat forward here in that this recipe appears under G – Good Health, when technically we are only up to D – Drinks and Dips. And whilst Drinks and Dips are usually good Friday fare, tonight it was something different.
I was intrigued by the idea of Cheese and Date Bread. I really wasn't sure how the sweetness of the dates would go with the rest of the ingredients. These fears were completely unfounded. And my bread looked just like real proper bread!
If somewhat lopsided…
The bread is pretty good plain but if you want to take it to a whole new level? Toast it up.
Cheese and Date Balls
Like I said, initially I was hesitant to make the Cheese and Date Bread. What changed my mind was finding this recipe for Cheese and Date Balls:
Epicurious – Cheese and Date Balls
Of course I made mini balls – because that's how I roll. Also, I swapped out the lemon in the recipe above for a teeny splash of vermouth.
Mmmmm…blue cheese, walnuts and dates spread on toasted Date and Cheese Bread. Life is good!
But wait…there's more.
But first a little bit of disclosure. I am actually trying something new tonight which is to cook (ok, assemble, I had actually cooked everything beforehand), photo, write, review and post all in the one night. Normally this process can take WEEKS. I am also doing it whilst drinking a rather large martini which we will get to in due course. So, if the end of this devolves into absolute gibberish, you know why and apologies in advance.
Those olives you see on the plate? Aren't just any olives. They are:
Martini Drenched Olives
Normally, you put your olive into a martini. In this recipe, you put some martini into your olives! This is so simple and really adds a new and different flavour to some otherwise ordinary olives.
Martini Drenched Olives
2015-07-03 05:41:08
Usually, you put a olive in your martini. This recipe adds a little martini into your olives!
Ingredients
2 cups green olives (I used stuffed olives because I had them)
3 tbsp vodka
1 1/2 tbsp dry vermouth
1 tbsp lemon juice
1 tsp shredded lemon zest
8-10 cracked peppercorns
Instructions
Rinse the olives under cold water and drain.
Combine all the other ingredients.
Place the olives in a bowl.
Pour the other ingredients over.
Refrigerate for at least an hour. (I kept mine in the fridge for nearly a week).
Adapted from Donna Hay

Adapted from Donna Hay

Retro Food For Modern Times http://www.retrofoodformoderntimes.com/

But you know what? If your going to have some martini drenched olives, why not make also make a Drenched Dirty Martini. It is Friday after all!
The Drenched Dirty Martini is a dirty martini made with Drenched Martini Olives.
Drenched Dirty Martini
2015-07-03 06:30:51
A dirty martini with a twist!
Ingredients
Splash dry vermouth
90ml vodka
1 tbsp liquid from Martini Drenched Olives
2 Martini Drenched Olives
Ice cubes
Martini Glass
Instructions
Swirl the vermouth in the glass and discard.
Add the ice cubes.
Combine the vodka and olive liquid. Add to glass.
Add the Martini Drenched Olives
Enjoy!
Retro Food For Modern Times http://www.retrofoodformoderntimes.com/
Have a great weekend!
PS – Love to hear your thoughts on the quick and dirty post. I live in awe of the bloggers who manage to do something daily and would love to be able to increase my output. Your feedback on me just banging something out like tonight v agonising over every comma is most appreciated! Thanks as always. xx
Related articles